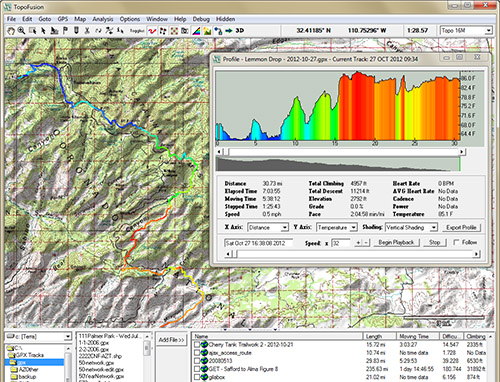 TopoFusion displaying temperature data for a long ride
We're happy to release TopoFusion 4.7! This version offers some significant improvements to the software in usability, some needed fixes and cool new stuff too. New is support for Garmin's Tempe sensor, an inexpensive temperature sensor that can be paired with many Garmin GPS units. With that support comes temperature profiles (see above screenshot) and temperature-based track shading. In the new support department we also have new Edge 800/500 and Fenix support, in the form of .FIT file reading. Plug your Edge 800 up and you can pull up any file from your history in TopoFusion!
We've also got a new mouse tool mode — the info mode, which gives you track and waypoint data simply by moving the mouse near points in the map. This is a user requested and highly useful form of additional track/trip analysis. Thanks for the suggestion!
TopoFusion's "Export View" function is a very powerful way to output high resolution maps, with any of TF's map sets and user track/waypoint data as well. But one issue was that tracks and waypoint text were pretty tiny when exports are at 8000×8000 pixels. Now there's a handy checkbox that adds automatic scaling of line width and font size.
Update your TF and check it out (full list of changes below), or if you are new to TopoFusion, please try the demo. And as always, let us know what you think, especially if you have a suggestion for a new feature or different way the software should work.
Thanks
Team TopoFusion
---
Head over to the Download Page to try TopoFusion out, free of charge.
Registered users refer to your registration email for the download link, or go here to request your code and the download URL.
Full list of changes
For a complete list of changes see the Revision History, or keep reading here:
4.7 – [11/1/12] (Full Release)
Added support for per GPS point temperatures (e.g. Garmin Tempe sensor)
Including profile tool, track shading, track properties
Added ability to read .FIT files
Added support for Garmin Edge 800/500, also Fenix and any other units that
communicate by .FIT files
Added new mouse mode: Info Tool. Use to query tracks and waypoints to
get on-screen stats. Clicking on a point brings up it's properties view.
Added option to scale line width, fonts and waypoint sizes when exporting maps
(Export View function). Checkbox turns on scaling to match what is seen in
current map view
Added shortcut to "Reset TopoFusion to default settings" to start menu on
install. Useful for debugging issues with the software (more effective than
uninstall/reinstalling).
Improved download queue behavior when a tileset (server) is unresponsive
Improved shaded relief quality in highest detail setting (when zoomed in)
Improved speed of filling track points table in File Properties
Files with less than 8000 points now loaded by default
Fixed access violation in using "Merge Files and save as…" when using edited
tracks with deleted points or files with multiple un-named tracks
Fixed crash in using the merge tool to save out empty files (nothing merged)
Fixed error disabling downloading with modal forms shown (about, options)
Fixed 'Real Time Playback' option in multi-playback when using skip stopped time
4.66 – [9/7/12] (Beta)
Changed Astro live tracking centering to only center, not zoom on track
Fixed off by one error(s) converting trackpoint to waypoint
Improved display of downloading tiles while drawing tracks
Added ability to save kml/tcx/shp file when creating a new file with waypoints